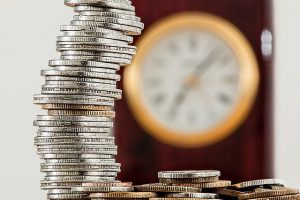 I used to wonder why so many people, especially millennials, were confused about saving for retirement. After all, I thought, that's why employer's offer 401(k)s and other plans.
Of course a 401(k) is a great way to save for retirement as most employers offer some sort of "match" on money you put into your 401(k) from your paycheck. If you are lucky enough to have an employer that offers a dollar-for-dollar match on the 3%-5% of your salary you put into your 401(k), you won't find better returns anywhere. This is an automatic doubling of your money!
But I was shocked when I learned that many people don't have the luxury of an employer sponsored retirement plan, like a 401(k) or a 403(b). In fact, a 2014 report from the Federal Reserve showed that almost half of responding households surveyed didn't have access to an employer sponsored retirement plan.
Those without an employer sponsored retirement plan are probably the ones who are struggling with most with figuring out how to save for retirement. Luckily, there are other ways you can save for retirement even without a 401(k) plan.
IRA
One of the easiest things to do to start saving for retirement if you don't have access to an employer sponsored retirement plan is to set up your own IRA.
You can set up an IRA with almost any financial investment company. Contribution limits for an IRA for 216 are $5,500 for those under age 50 and $6,500 for those over age 50 and it's important to note that the limit applies to contributions to both an IRA and a Roth IRA. Contributions to an IRA are tax deductible.
An IRA isn't actually an investment, it's simply an account that holds your investments. You still have to choose what you want to invest in, like stocks, mutual funds, or even a target-date fund that automatically rebalances as you get closer to retirement. Your retirement advisor can work with you to figure out your investment goals, timelines, and risk profile so you can get the right mix of investments in your portfolio. Or you can lower costs by working primarily with a robo-advisor that uses a computer algorithm to do the same thing.
Crowdfunding
Believe it or not, another option for investing when you don't have a 401(k) is by buying crowdfunded investments, like real estate.
It's just like investing in stocks, bonds, or any other type of investment. By crowdfunding, you put your money together with money from a large number of other investors who also have limited funds so you can all share a portion of the profits. You can do this easily over the internet through a Real Estate Investment Trust, or REIT.
REIT's work by modeling mutual funds. You can achieve a regular stream of income with an REIT, which is a company that provides all types of investors with the ability to diversify their investments. They have experts on their management team who invest the money for the group in ways each individual would not be able to on their own.  Of course, there are fees, but there are also dividends paid to the shareholders as well.
One company that offers crowdfunding is Fundrise. There are others, but this company uses crowdfunding over several properties at once to increase profits and reduce risk to its investors. In addition, four times a year you can withdraw money without penalties and the initial investment can be as little as $1,000. There are not fees if they aren't performing well, and even though there are risks, they report returns of between 12-14%.
These are just a couple of options for investing when you don't have access to an employer sponsored retirement plan, like a 401(k). No matter which option you choose, the key is to invest as much as you can as early as you can and to continue saving and investing consistently over time.
Kayla is a personal finance blogger in her mid-20s who loves to write about money topics of all kinds.