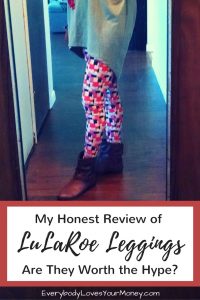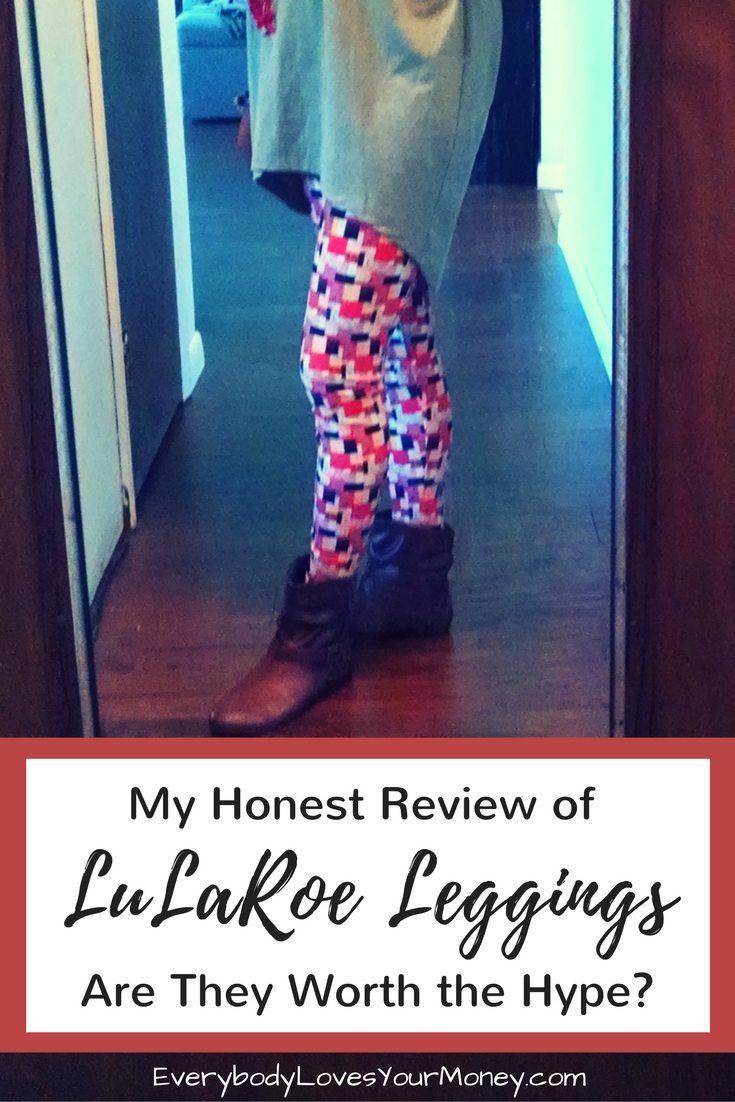 Disclaimer: I received this product for the exclusive purpose of testing and reviewing it on this site. This is a LuLaRoe review, but all thoughts and opinions are my own.
Buttery soft. That's how a friend of mine described her pair of LuLaRoe leggings to me. The fast-growing clothing brand first coined the phrase and its customers heartily agree.
As a work-at-home mother of two, my ears perked up when I heard that. Whether I'm cleaning my house, writing at my desk, or taking the kids to the park, feeling comfortable is a huge bonus. I also want to feel confident in what I wear, especially when I'm working.
Is it too much to ask to feel fabulous in your clothes?
That is why I had to conduct a LuLaRoe review of my own. I saw the zany zigzags and floral prints popping up left and right on my Facebook newsfeed. Was it really worth the hype?
My LuLaRoe Review: Leggings
When I first began researching LuLaRoe, it was to find out how it measured up with its competitors.
Recommended Reading: LuLaRoe Clothing: How Does It Measure Up with Its Competitors?
So, I went shopping in my very first LuLaRoe Facebook Boutique. Tonya Padget, one of the devoted fashion consultants who runs that group (click HERE to look through the boutique and join) and fellow working mother of two, jumped in to help me. She took time to answer my questions about sizes, styles and the basics of how to shop for LuLaRoe.
The entire business pivots around Facebook groups and live boutiques set up at fairs or in living rooms. Customers browse the photo galleries posted by consultants during designated "shopping hours." Consultants assist with everything from putting together outfits, finding the right sizes, returns, and running giveaways and promotions within the group.
Fit
The great thing about LuLaRoe leggings is that they're one size fits all. The minute I put mine on, I knew we'd be lifers. I chose something funky in a color range I love and was NOT disappointed. Sure my range is a bit limited when it comes to wearing them with other things, but I still feel fabulous all the while.
Once Tonya and I discussed leggings, I realized I'd need something to wear with them. I purchased a grey hi-low top called an Irma from her boutique. It ended up being too big for me, but that's because I'm tiny and short. Tonya was very helpful with exchanging my top for a black striped Gracie that fit perfectly. Another lifer.
Style
My 3-year-old daughter's eyes lit up when I opened the package of bright red, yellow and black leggings. OK, so my eyes did, too…
The neat thing about LuLaRoe's designs is that they're created in a limited supply, ensuring that your look is truly unique.
Comfort
I could live in my LuLaRoe leggings. They are extremely soft and comfortable. I also like that they don't slide down my waist throughout the day. This allows me to escape the inevitable awkward adjustments. Another bonus.
Price
After asking dozens of customers in an interview on Facebook, I discovered that they're #1 reason for not purchasing more clothing from LuLaRoe was price. Leggings are typically priced at $25 with their tops and dresses higher still.
Yes, it's a chunk of cheddar to invest, but if it's something you'll wear a ton, then that can justify some of the expense. I'm not here to convince you to buy from LuLaRoe, though. The purpose of this LuLaRoe review is primarily to inform. That being said, I truly do enjoy their leggings and think a unique product like theirs can be justifiably priced higher.
Don't worry because I've got a coupon exclusively for Everybody Loves Your Money readers.
Join Tonya's Facebook boutique and enter the code: LHBLG10P for 10% off your next order. This offer is available only through this boutique.
For reviews on other services, apps, and places check out these articles.
Blue Apron Review: The Pros and Cons of a Fresh Meal Delivery Service
My Paribus Review: The Online Shopping App That Makes Money for You
Kroger ClickList Review: Every Mom's New Best Friend or Too Good to Be True?
What do you think of LuLaRoe's leggings? Would you ever buy a pair?