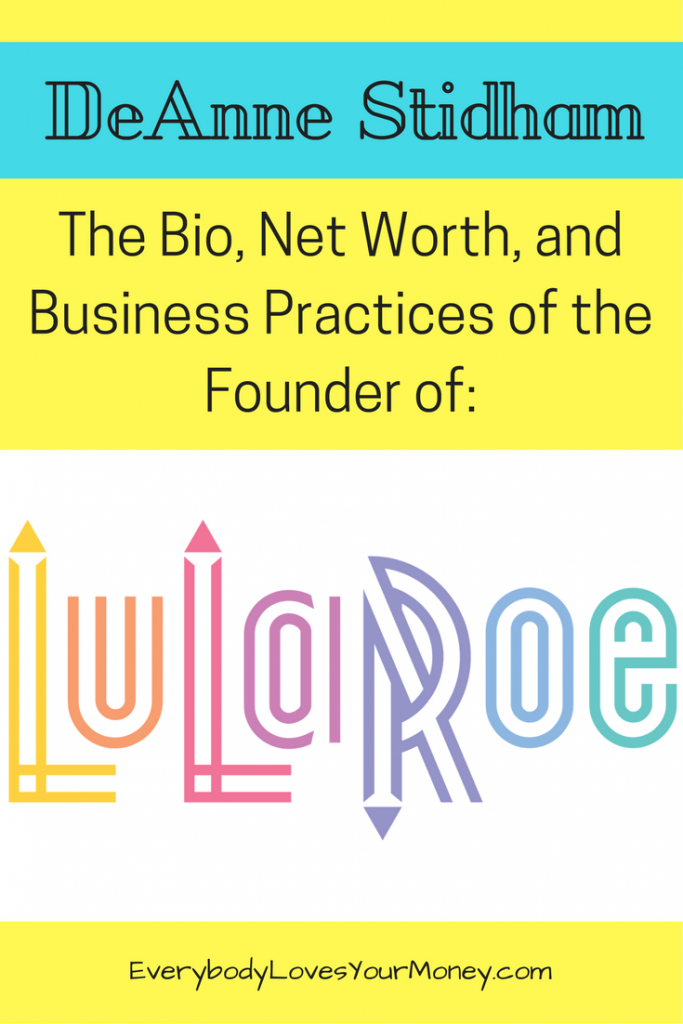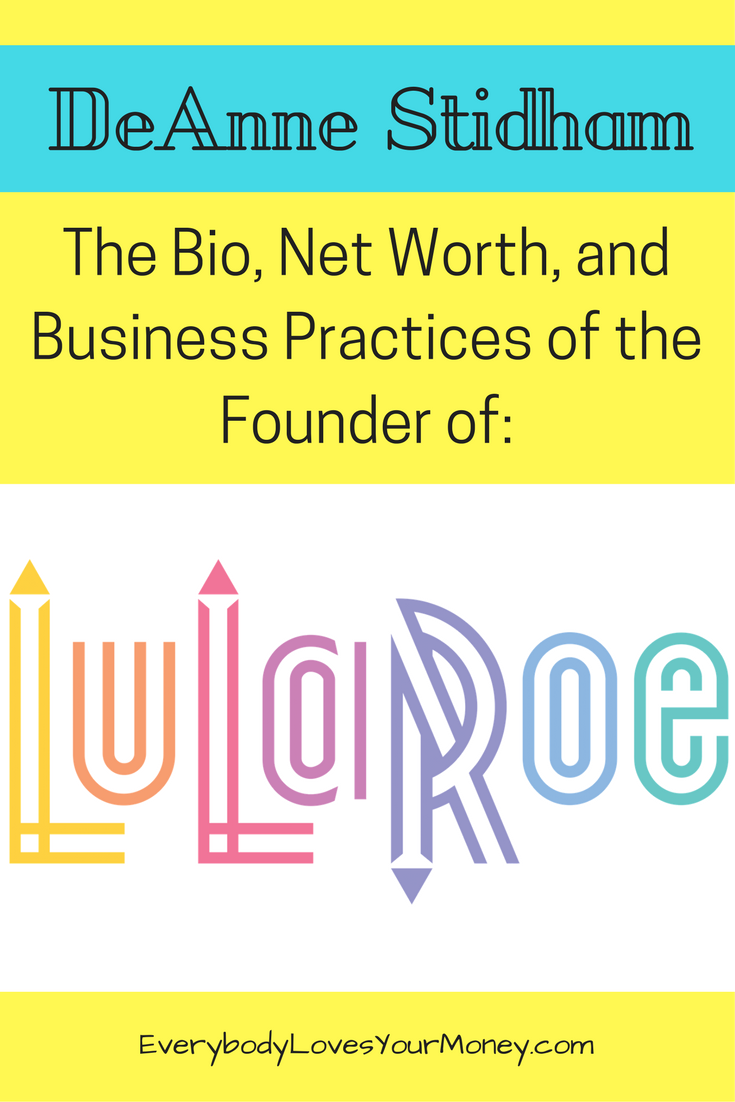 If you've ever had a friend try to sell you a pair of zany, buttery-soft leggings, it's likely she works as a consultant for LuLaRoe, a fast-growing, multilevel marketing business. If you've ever wanted a better look behind the scenes, today we're going to focus on the biography of LuLaRoe's founder. Welcome to the DeAnne Stidham Net Worth and Biography overview.
DeAnne Stidham Net Worth – A Bio on the Founder of LuLaRoe
Who is DeAnne Stidham?
DeAnne Stidham was a single mother of seven who had an eye for design and dream to stay home more with her children. She had success marketing end of season clothing to friends and family. When she was discovered by wholesalers who picked up on her taste and potential, it gave her the capacity and the drive to launch her own clothing line: LuLaRoe.
Stidham quickly discovered it would take a team to sell the fashion line the way she desired. According to Stidham's biography on LuLaRoe's website, "she came to believe that if you want someone else to be successful, treat them as if they are, and they will become that person."
To read Stidham's full bio, click here.
What is LuLaRoe?
LuLaRoe is a multi-level marketing distributor of brightly colored, super soft leggings, tops, and dresses. These pieces are mostly sold at pop-up parties in homes or online via social media.
I've experienced LuLaRoe as a customer a number of times. Each time was in a Facebook group with a particular consultant who helped me with my purchase. Her main role was to provide options, educate me on sizes, and assist with general questions.
What is Stidham's net worth?
LuLaRoe's popularity exploded over the last few years. By putting together a valuation of the company's earnings since its inception, we can estimate Stidham's net worth to be around $1 million.
How much do individual consultants earn? We cannot access specific figures, but according to this report from Business Insider, many consultants earn tens of thousands in bonus checks from their success. Consultants must buy at least $5,000 worth of merchandise to begin; however, the report says, "LuLaRoe lets consultants sell unsold inventory back to the company if they want to get out of the business." That's very different from other multi-level marketing companies.
Stidham and Recent LuLaRoe Controversies
Running any fast-growing business is difficult, especially when it's such a large team. LuLaRoe is facing a few significant controversies that Stidham must oversee to ensure the company's survival:
In a report published by CBS News, LuLaRoe "is facing a federal lawsuit accusing it of collecting sales taxes from customers in states that don't levy one on clothing. The company also is facing criticism over the quality of its garments and its business practices."
As far as the quality of fabric, business model, and user experience, I reported a more thorough piece experience experiene with LuLaRoe and that of others in this article: "LuLaRoe Clothing: How Does It Measure Up with Competitors?"
How is Stidham responding to these controversies?
Stidham's goal from the beginning was to help women feel confident and beautiful in what they wore. After being questioned about allegations, CBS published the company's response:
"LuLaRoe wouldn't be where we are today without the passion, dedication, and success of our fast-growing network of independent retailers. We take the concerns or questions they have seriously. Beyond that, we do not comment on rumors and speculation, and believe these allegations are without merit."
According to the same report, more than 90 percent of LuLaRoe consultants continue to sell their merchandise to customers.
In conclusion, LuLaRoe has a lot going for it, but the drawbacks are worth considering. As a customer, I've yet to have a bad experience. I believe a large part of that was due to the helpful communication and support I received from the consultants from whom I shopped.
To learn more about that experience, read my full LuLaRoe review here.
Do you own LuLaRoe clothing? Have you had a positive or negative experience as their customer? Share your thoughts below!
Image Credit: Jill O'Hanlon (Creative Commons)