New Year's Day is a great time to go out because there are usually fewer people than on other holidays, thanks to so many being home with hangovers.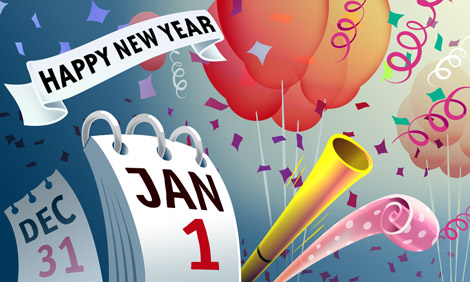 Below is a rundown of what's open on New Year's Day, starting with restaurants and then a few stores.
Depending on where you live, there may be locally-owned eateries that are also open. Try looking in your local newspaper for listings and then call ahead to confirm.
In fact, it's a good idea to phone any of the restaurants below to make sure the location nearest you is open and whether the hours are limited on New Year's Day. Even places that are usually 24 hours may have a more limited schedule on the first day of the year. Some of the following restaurant chains offer delivery on New Year's Day but not all.
Open New Year's Day
That said, the following chains are likely to be open the first day of the year in most of their locations:
What Else Is Open New Year's Day
Many large retailers are open on New Year's Day, often operating regular hours. But there's one notable exception: Costco — which is unusual because the warehouse chain is open on just about every other holiday.
If you're itching for the warehouse store experience, head to Walmart instead, Or if you just want discounts and don't need the warehouse part, go to Target.
Before you shop for things you plan to send to people, remember that the post office is closed on New Year's Day and New Year's Eve, and there are no deliveries on either day. However, on both days some locations might offer limited services like the ability to buy stamps.
United Parcel Service (UPS) is mostly closed on both New Year's Eve and New Year's Day, with a couple of exceptions: Air and international packages will be picked up and delivered on New Year's Eve, and on New Year's Day only the UPS Express Critical Mailing Service is available.
Fedex is open on New Year's Eve but closed on New Year's Day. Some locations might also be closed on Jan. 2 as well.
Readers, do you expect you'll want to go out to restaurants or stores on New Year's Day?
Get Your FREE Book Now
Enter your name and email address below to get your free copy of "How to Hack Your Spending."