Sell your hair and you might score as much as $4,000 — or as little as $100.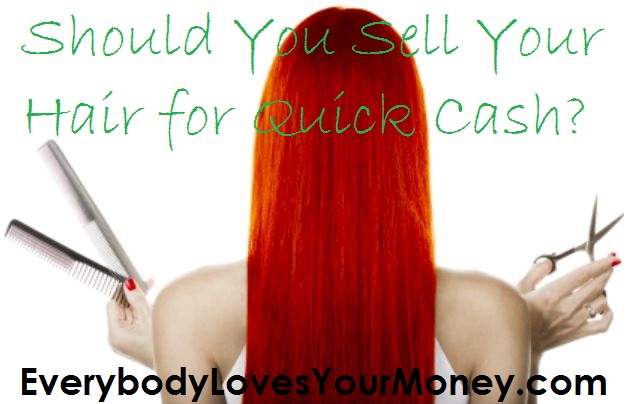 Don't cut a single strand until you've researched whether there's a market for your specific type of hair. Where demand is low, so is the pay, which ought to make you think twice about whether the sacrifice is worth it.
And even if you are able to get top dollar for your locks, you really need to do a self check to make sure you're emotionally ready to chop it all off.
What's in Demand
That said, here's a few guidelines on what types of hair are most in demand:
Blondes and reds fetch higher prices than brunette colors. Dyed hair don't price as high as nautral colors.
Healthier hair sells for higher prices. Any kind of processing — perms, straightening, dyeing, and even lots of blowdrying — that leaves long-term damage will lower the price. Use of cheap shampoos, dryness and even exposure to the sun can also have this effect.
The longer, thicker or preferrably both, the stronger the demand.So, where do you sell it?
There's also some seasonality to demand for hair that you can research online — try reading postings in the community sections of hair-selling websites and for selling communities on social media and hair-specific sites.
Where To Sell It
Here's where you might sell your hair:
Buy and Sell Hair
This site charges a fee of just $14.50 and the average hair sale net $400 to $500 — which you can collect via PayPal.
Craigslist
Most likely this option will include your meeting the person who might buy your hair — but you can control the sale price and not have to pay any commissions.
eBay
With low selling fees, selling hair on eBay may actually turn out to be cheaper than hair-selling sites — and you can set your own prices using the "Buy It Now" feature. Be sure to include lots of high-quality photos of your hair in your listings.
Facebook Marketplace
Look for hair-themed groups within Facebook Marketplace, and you'll be able to sell your tresses without having to pay a commission.
HairSellon
You can sell as little as six inches of your hair and earn cash through this site. Instead of charging commissions, this site has a listing fee ranging from $15 to $50.
Local Salons and Wig Shops
If you're willing to do a bit of foot work to find local hair salons that weave hair extensions — along with wig shops that make their own items, you might be able to find an eager buyer.
World of Wigs
This site might not make you as much money as most of the others, as it only pays $3 to $5 per ounce of hair and will only accept hair that is 12 inches in length. This site also might choose not to pay you if your type of hair is not in demand.
What To Say in Your Posting
Most of the sales options listed above will require you to write your own posting. Here are some things to include that might help you sell better — leave any of the following information out and prospective buyers will probably ask you for it anyway:
Exact length of the cut hair, along with the weight.
Hair texture, natural style and natural color.
Hair grooming details like frequency of shampooing and conditioning, and which products you have used to wash, condition, and style it.
Any details on whether the hair has been dyed, permed, straightened and so on.
Your diet and whether you smoke or drink alcohol.
Do You Really Want To Sell Your Hair?
You'll want to carefully think through everything mentioned in this article before proceeding to sell your hair. If any of these considerations lead you to change your mind, look for other ways to raise money — including the ones mentioned in the following articles:
Readers, how has reading this article changed your thinking about selling one's hair for extra cash? What, if anything, are you doing as a side hustle?
Get Your FREE Book Now
Enter your name and email address below to get your free copy of "How to Hack Your Spending."