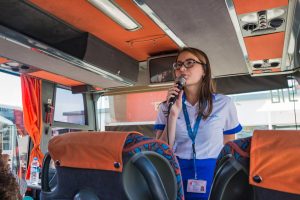 If you have a passion for travel, it may be a good move to start a personal tour guide business. You can turn your knowledge of your local area into cash by taking tourists around to the best fishing spots or historic sites. Tourists want to enjoy their trip to the fullest and have unique experiences, so they may be willing to shell out a pretty penny for a private, one-on-one tour. If you're wondering how to start a personal tour guide business and tap into this lucrative industry, here's a step-by-step guide. 
Decide What Tours You Want to Offer
There are lots of different kinds of tours out there—food tours, bar crawls, historic walking tours, paranormal tours, and more. If you're an outdoorsy person, you could offer hiking tours or hunting and fishing expeditions. Creative people might enjoy leading a photography or mural tour. 
Before you can establish your business, you'll have to figure out which type of tours you'd like to offer based on your skills and interests. It may be best to narrow your focus to just one category at first, like nature or food. This enables you to position yourself as an expert in that area, which may help you get more customers than trying to be a jack of all trades.
Set Your Prices
In addition to choosing the type of tours you want to offer, you'll have to set your prices. Do some research on what other tour companies in your area are charging. Finding their price lists can give you an idea of what your price point should be. However, if your tours are more unique or have extra perks like free transportation, then you can justify charging more than competitors. 
You should also factor in your overhead to make sure you remain profitable. Will you need to cover gas and vehicle maintenance costs, or are you only offering walking tours? Are you going to hire employees or take customers to historic sites that have admission fees? All of these expenses affect your bottom line and will need to be baked into your prices if you want your business to be successful. 
Get Permits and Insurance
One of the last steps to start a personal tour guide business is to get the permits and insurance you need before you launch. You can find out which permits and licenses your state may require by visiting their website. 
It's also a good idea to take out an insurance policy to protect you in case a customer gets injured while on your tour. A general liability policy is usually a good place to start.  But make sure you talk to a qualified insurance agent about what kind of coverage you need. 
Depending on what type of tours you offer, you may also want to have a lawyer draft a liability release waiver. This ensures customers understand the risks associated with the excursion and can't hold you accountable if they accidentally hurt themselves. However, waivers don't protect you from all liability. If you don't follow sufficient safety protocols, you can still face negligence charges. 
That's why it's important to form an LLC to separate your personal assets from your business. If someone sues your tour company, your house and personal savings are much more protected and usually can't be taken. 
Devise Your Marketing Plan
Another important part of how to start a personal tour guide business is marketing. You'll need to set up an online presence for your business by creating a website and social media pages. You'll also have to figure out how to get the word out to potential customers about your business. 
It may be a good idea to talk to hotels and travel agencies in your area and try to partner with them. Concierges and travel agents are responsible for recommending local tour companies and planning outings for tourists, so it's important to build relationships with them.
You can also advertise your business on TripAdvisor and local travel forums that tourists may use to plan their trip. There are even websites that connect travelers with tour guides like ToursByLocals and Showaround. Although they'll usually take a cut of every tour you book, they can give you the exposure you need to get your business off the ground. 
If it's your dream to start a personal tour guide business, you can make it happen. It will take some hard work, and you may have to lead tours on nights and weekends after your full-time job. But with enough persistence, you can grow your tour guide company into a profitable venture.
Read More
Why I'm Saving Up for Solar Panels
How I'm Coping With Rising Inflation
How To Start a Pet Insurance Company