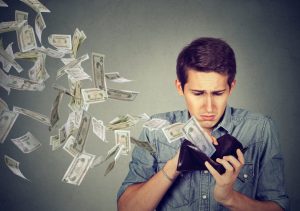 It's normal to care about money. Without it, we wouldn't be able to take care of our families, achieve lifelong dreams like traveling the world, and retire someday. But some people take things too far and stop seeing money as a means to an end. They view the pursuit of money as their sole goal in life to the exclusion of relationships, hobbies, and work-life balance.
If you have a healthy relationship with your finances, you may wonder, why are people obsessed with money? Why do billionaires like Warren Buffet continue to work even though they have more money than they'll ever need? Below we'll dive into the reasons why people become addicted to building wealth at all costs so you can learn from their mistakes.
Why Are People Obsessed With Money?
Money Disorders
Why are people obsessed with money? One possible answer is that they have a money disorder. Some people feel like they'll never have enough money to be secure. Even if they had a million dollars in their investment account, it wouldn't give them financial peace of mind.
This type of financial anxiety usually forms due to personal experiences like growing up poor. Some people may also develop money disorders later in life. For example, someone who lost a big portion of their wealth due to a failed business may end up obsessed with hoarding cash.
Because they don't want to end up in a bad financial situation ever again, they make building wealth their main goal. They save compulsively and feel guilty spending any of their money. This can cause relationship problems when friends and family have trouble understanding their miserly ways.
Disordered financial thinking can also lead to workaholism. People with money anxiety may take on too much overtime at work in an attempt to rack up cash faster. If you feel this way, you should speak to a therapist and get help so you can enjoy some of your hard-earned money.
Fulfill Emotional Needs
Some people may also use money as a way to fulfill unmet emotional needs. We all need love and reassurance from the people in our lives. If we don't have family and friends who make us feel valued, we may seek validation in other places. Seeing their bank account balance rise makes some people feel special and important, which may fill that void for them.
In our society, money is a status symbol, so it can feel validating to accumulate wealth and become rich and successful. But those zeroes in our bank accounts can't satisfy our need for love and intimacy. In fact, a money obsession can often lead to isolation. When you spend all your time at work climbing the career ladder to earn more money, you don't have time to form meaningful relationships.
Leaving a Legacy
For some people, their obsession with money and work stems from wanting to leave a legacy for their kids and grandkids. They want their family to be secure and live without financial struggle. So they put in long hours and sacrifice their free time to leave their children better off than they were.
However, it's important to know when to stop. Your family would rather have time with you than a bigger inheritance. So if you have enough money to retire on and extra to leave to your kids, it may be time to pump the breaks on work.
Money obsessions can occur for many different reasons. Some people become addicted to building wealth after growing up poor or experiencing a big financial loss. Others use money and buying things to fulfill unmet emotional needs, like the need for love or validation.
Overcoming a money obsession that has deep emotional roots can be difficult. But with some self-reflection and potentially help from a therapist, it's possible to develop a healthier relationship with your finances.
Read More
How To Give Money to Family After Winning the Lottery
How to Start a Personal Tour Guide Business
Why Pantry Challenges Are Costing You Money

Vicky Monroe is a freelance personal finance and lifestyle writer. When she's not busy writing about her favorite money saving hacks or tinkering with her budget spreadsheets, she likes to travel, garden, and cook healthy vegetarian meals.