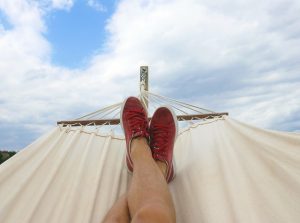 These days, it seems like everyone participates in hustle culture and dreams of climbing to the top of the career ladder. But what if your goal is to work less so you can devote more time to hobbies, family, and friends? Although our culture prizes busyness, it is possible to escape the grind and create a life you love. Here are 4 ways to live more and work less without sacrificing financial stability.
Best Ways to Live More and Work Less
Find a Remote Job
Americans spend a lot of time commuting, which makes our already busy days even longer. On average, it takes employees an hour to drive to and from work. Getting a remote job is one of the best ways to live more and work less because it allows you to reclaim that hour of your day so you have more time for family and fun.
Become a Freelancer
Even if you work from home, your boss probably expects you to be at your computer and available from 9 to 5. Although you may be able to do a load of laundry while you're on a conference call, you can't leave your desk to hike in the middle of the day.
But when you work for yourself, you don't have to be chained to your desk. As long as you get all your work done and meet your deadlines, you can knock off early whenever you want.
And as an added bonus, starting your own business allows you to set rates that work for you. If you charge enough, you'll be able to work less hours overall while making the same salary you did as an employee, or more.
Outsource Chores
Although you may not think of household chores as work, they probably take up a significant portion of your day. The average American cleans their house for over an hour every day, and that doesn't even include time spent cooking. If you outsource these tasks instead of doing them yourself, you'll have a lot more time for hobbies and activities you enjoy.
You can take household chores off your plate by hiring a cleaner and getting ready-made meals delivered to your home through a service like Daily Harvest. Or you could pay your kids to help out around the house to teach them the value of hard work and get a little more time to yourself.
Reduce Your Expenses
One of the top ways to live more and work less is to lower your expenses. If you reduce your monthly bills, you won't have to work as many hours to cover them.
Housing is probably your biggest monthly expense. Downsizing to a smaller living space or getting roommates can help you cut your housing costs so you can take on fewer hours at work. Millennials have even started exploring alternative housing options like tiny houses and converted vans so they can spend more time traveling and less time working.
But if moving isn't an option, there are plenty of other ways to live on less. You can cancel your cable TV subscription or try to negotiate a lower rate. You can also reduce your insurance costs by comparing rates from different providers using free online tools.
Eating out less and cooking at home more can help you save money too. Restaurants mark up their food by an average of 300%, so eating in can help your dollars stretch further, especially if you plan your meals around grocery store sales.
Learning how to separate needs from wants and resist the urge to impulse buy is also important. Lots of people get stuck working long hours because they inflate their lifestyles and purchase things they don't need. Adopting a minimalist mindset is key if you want to avoid the work, spend, borrow cycle.
How do you simplify your life so you can work less and live more? Let us know in the comments section below!
Read More
How Much Should You Spend on Decorating Your Home?
Why Are People Obsessed With Money?
Why Pantry Challenges Are Costing You Money

Vicky Monroe is a freelance personal finance and lifestyle writer. When she's not busy writing about her favorite money saving hacks or tinkering with her budget spreadsheets, she likes to travel, garden, and cook healthy vegetarian meals.