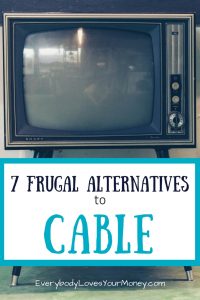 One of the most negotiable "needs" within a home is cable. Due to clever marketing and structured price packages that include internet and a land line for nearly the same price as cable, it's hard to say no. If, however, you're looking for some frugal alternatives to cable, this list is for you.
When cable first hit the scene in 60's and 70's, who could have predicted what it would become today? Hundreds of channels stream around the globe. It offers something for nearly every interest level: sports, history, children, and travel just for starters.
On the downside, it adds up. According to a recent NBC news report, the average cable bill is $99 per month. Often, customers discover a rate increase on their statement. Either a promotion ends or a new rule jumps in and customers are glued to a phone trying to sort it out.
If you want a break from the steep monthly charges, check out these options.
7 Frugal Alternatives to Cable
Crackle.com
Crackle.com is a free site for streaming television shows and movies. The selection is more limited than cable, but there are fewer commercial breaks…and it's free.
Amazon Prime TV
For the same price many people pay monthly for cable, you can watch a year's worth of TV and movies on Amazon Prime. My kids enjoy the huge variety of children's programs that you'd normally see on Nickelodeon or PBS. I also like how many of my shows stream on there as well as work out videos.
HuluPlus
When you want to watch a reality show or sitcom, but don't want to wait for the entire new season to show up on Amazon or Netflix, try HuluPlus. At the time of this writing, HuluPlus is offering only $5.99 per month for the first 12 months. Then, it returns to its regular price of $7.99 each month.
Netflix
For $9.99 per month, get unlimited doses of your favorites: movies, sitcoms, documentaries, and even Netflix originals. Each selection is commercial-free and typically contains multiple seasons of each show.
Classic antenna
Olympics. Local news. Weather reports. Sports. The Academy Awards. Presidential debates. PBS.
These options still exist when you ditch cable for a standard antenna. Why do I know? Because that's what we do. For roughly $20, we bought a basic antenna (which was just a small box, not the bunny ears from my youth). Combine the simple and inexpensive set up with something like Netflix and you've got a huge selection at your fingertips.
Library
Quite possibly my favorite frugal place on earth – especially after having kids.
The library has numerous features that keep you from getting bored, but here are four big ways it's one of the best frugal alternatives to cable:
Check out entire TV shows by the season.
Check out movies, documentaries, or children's programs.
Lots of screen-free alternatives (story time events, hardcover books, audio books).
Free WiFi and a computer lab.
Launch a "No Spend" challenge
This last option is simply replacing cable with nothing that costs money. By committing to not spend in a certain category for a set period of time, you naturally save money. You also practice self-discipline and goal setting.
What frugal alternatives to cable have you considered?
Image Credit: Sven Scheuermeier (UnSplash)