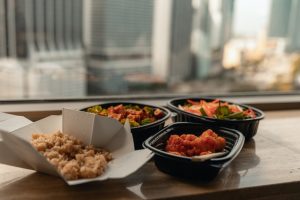 Are you feeling the need to eat out less? At the beginning of the pandemic when restaurants had to switch to takeout-only, I increased my eating out budget to support local small businesses. But now that dine-in restrictions have lifted and restaurants near me are regularly packed, I've decided to cut back on takeout. 
Here's why I've decided to eat out less and cook at home more. 
Restaurant Meals Aren't a Great Deal
Everyone knows that restaurant meals cost more than food you cook at home. But it may surprise you to learn how high the markup really is, and that's one motivation to eat out less.

Restaurants mark up their food and beverages by 300% on average. So that $20 steak dinner would only cost you $5 if you decided to make it at home instead. 
Restaurants aren't trying to give you poor value for your money. They simply have overhead costs they need to account for, such as wages for the servers and kitchen staff.
Even with the big markup, eateries don't make a huge profit on the things they sell. It's estimated that most restaurants have razor-thin profit margins between 2% and 6%. 
Still, that doesn't mean I want to pay 300% more for my food on a regular basis. So now that restaurants in my area are open for dine-in and are bouncing back due to pent-up demand, I'm going to lay off takeout for a while to save money. 
Takeout Has Tons of Calories
If you've gained weight during quarantine like I have, part of the reason may be all the takeout you've been eating. A recent study found that 92% of meals from both chain and local restaurants have too many calories. 
The average restaurant meal contains 1,205 calories, which is over half of your daily recommended intake of 2,000 calories. If you eat two other meals during the day, you'll probably get more energy than you need and start packing on the pounds. Takeout also contains a lot more salt and fat than the food you'd cook at home, which isn't good for you.
Being overweight predisposes you to a lot of costly health problems, so it's in your best financial interest to keep your waistline in check. That's why I'm cooking more healthy, low-calorie meals at home and ramping up my fitness routine to shed my quarantine weight. 
Cooking is a Fun (and Lucrative) Hobby
For me, cooking is a fun, low-cost hobby. Trying out new recipes with my partner allows us to bond and experience different cuisines together. 
I've even found ways to turn the cooking skills I've gained over the years into extra cash. Food bloggers need a steady stream of tasty, original recipes. Many of them outsource their recipe development and food photography to freelancers. I've earned a couple hundred dollars from recipe development and plan to continue doing it in the future.
If you're not into food photography, there are lots of other ways to earn money from cooking. You could start a home baking business and sell your goods at the farmer's market. There are also several apps that allow you to sell your leftovers or private chef services.
As a beginner, cooking can be stressful. But once you get the hang of it, it might become your next favorite hobby or side hustle. 
If you've been eating more takeout during the pandemic, it might be time to start cutting back. Cooking at home will help you shed excess pounds and get healthier just in time for summer. You'll also save lots of money and develop some amateur chef skills you can use to make side cash.
Read More
How To Earn Money Cooking At Home
Here's a Cheap and Healthy Grocery List for the Budget Conscious
6 Easy Ways to Save Money on Coffee

Vicky Monroe is a freelance personal finance and lifestyle writer. When she's not busy writing about her favorite money saving hacks or tinkering with her budget spreadsheets, she likes to travel, garden, and cook healthy vegetarian meals.