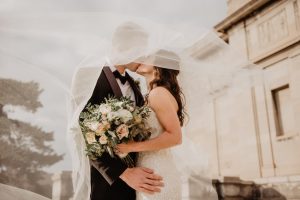 My partner and I have finally set a date for our wedding. We're planning to get married in October of this year and couldn't be more excited. But instead of having the customary big celebration, we've decided to exchange vows in a park. Here's why we're opting for a small, low-cost gathering instead of a huge party at a banquet hall. 
Weddings Cost a Ton of Money
The average wedding in America costs a whopping $30,000. That's significantly more than I paid for the used car I drive. It's even more than the down payment I made on my house.  
To make matters worse, 74% of couples take on debt to cover the cost of their wedding. About 60% of them use their credit cards to pay for wedding related expenses, and 20% rely mainly on personal loans.
The average credit card has an interest rate of 18.24%. Personal loans aren't far behind at 14.47%. So after you factor in interest charges, the typical wedding probably costs much more than $30,000. 
The opportunity cost of spending that much money on just one day is huge. If you invested that $30,000 instead, in 40 years you'd have $651,735 assuming you earned an 8% annual return. 
Although I grew up dreaming about my wedding day, having a big party isn't worth $650,000 to me. I'd rather invest that money instead and have a more comfortable retirement. 
Rigid Cancellation Policies
As the coronavirus has shown us, many wedding venues and vendors have strict cancellation policies. Over the course of the pandemic, brides have lost thousands of dollars in deposits and fees through no fault of their own. They're spending the equivalent of a brand new car on an event they won't even get to experience, which seems highly unfair. 
Although life is starting to return to normal, I don't think I'll ever have the confidence to spend thousands of dollars on a wedding that's months away. So much can happen and change within that time period. Barring a global pandemic, unexpected events like natural disasters and family members getting sick can derail weddings. 
Although you can purchase event insurance, most providers have stopped covering communicable diseases like COVID-19. They're also hiking up their rates by 25% to 100%, which makes purchasing insurance coverage for weddings even more expensive. 
I would rather keep my wedding budget low than shell out money for event insurance. That way I'll be able to cancel or postpone my wedding without losing much if any money. Although this means that the event will be a simple gathering in a park, I'll be surrounded by my family and friends. I'd rather have the people who are most important to me at my wedding than walk down the aisle in a fancy dress anyway. 
If someone gets sick and can't make it, we'll just move our nuptials to another day. And as an added bonus, I'll be able to invest the money I would've spent on a big wedding and earn compound interest on it. I have a feeling my future self will thank me for that.
Read More
How Much Should You Spend On An Engagement Ring?
Need a Unique Summer Wedding Gift Idea? Here Are 4
Top 5 Personal Finance Books That Promote a Frugal Family Life