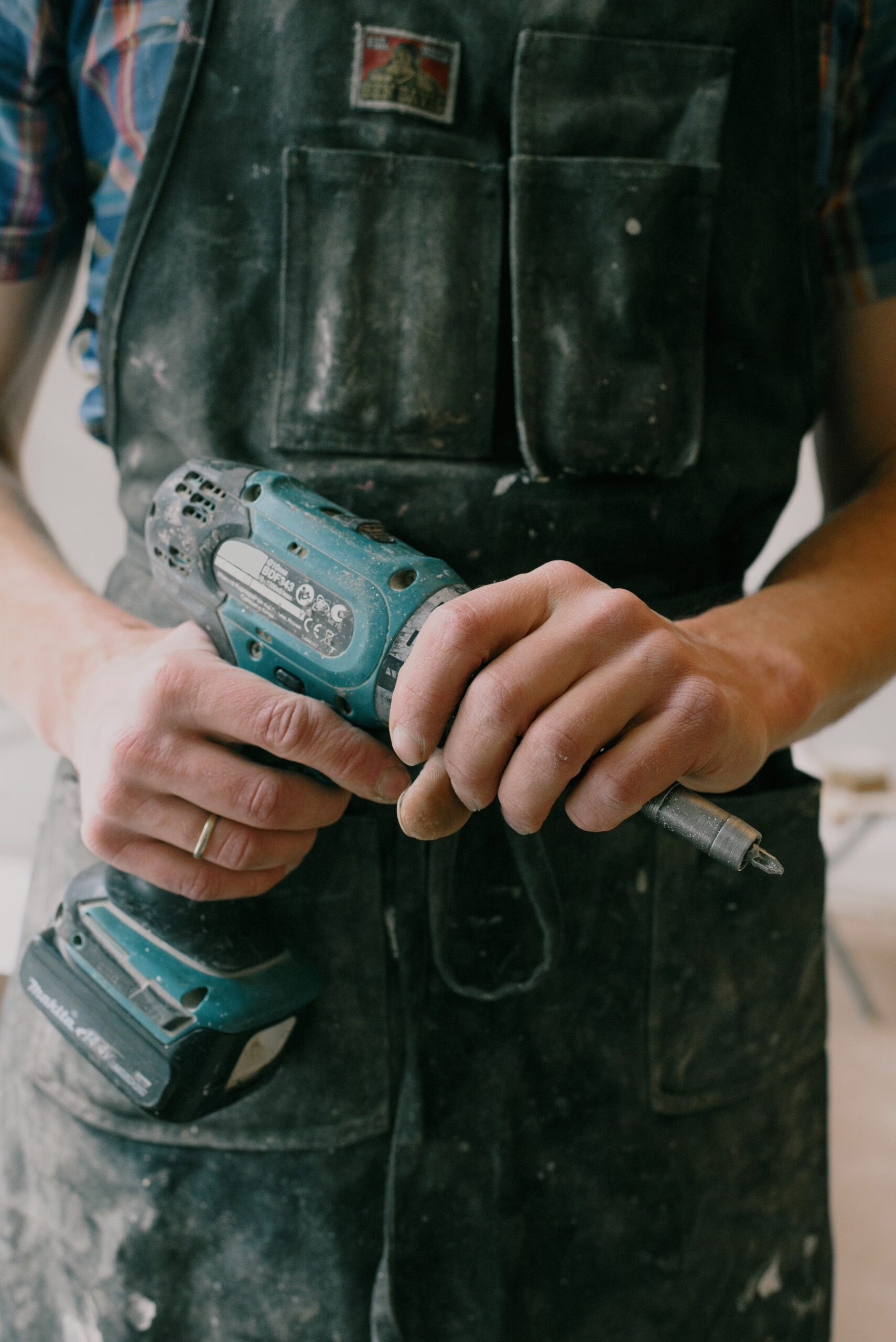 Home repairs are a major line item in many people's budgets. On average, homeowners spend at least one percent of their home's value on maintenance every year. But luckily you can save money by fixing things yourself instead of calling a contractor every time something breaks.
Even if you're not a handy person, you can learn how to do minor home repairs. Here are some tips to help you develop the skills you need to perform regular home maintenance.
How to Become a Handy Person and Save Money
Learn From the Pros 
Every homeowner starts out with minimal home maintenance knowledge. When I bought my home a year ago, I didn't know how to change a light fixture or fix a leaky faucet. But once I realized how frequently home appliances break, I realized I'd need to up my handyman skills to keep my budget in check.
Thanks to the internet, it's easy to pick up home maintenance knowledge. Websites like Ask This Old House and The Family Handyman are great resources that can help you learn how to make repairs yourself. YouTube videos can also help you complete DIY projects and fix minor home issues.
If you're a more hands-on learner, you can volunteer for an organization that builds homes for families in need like Habitat for Humanity. You'll not only gain construction skills, but also support a great cause. You may also be able to shadow a friend or family member who's handy as they make repairs around their home to improve your DIY skills.
When I don't know how to fix something, I ask for help from my neighbors, who are more than willing to lend a hand. People are usually happy to help a new homeowner learn the ropes, so don't be afraid to reach out to your support network for backup when you need it.
Fix Minor Home Issues Yourself
Many people get intimidated by the idea of doing home repairs themselves. They're usually afraid that they'll mess up their home systems and make the issue worse by attempting to fix things. But there are lots of minor problems you can tackle yourself with a little help from Google and YouTube, such as: 
Fixing a leaky faucet 

Unclogging your toilet 

Replacing a light fixture 

Unclogging a garbage disposal 

Patching small holes in your drywall 

Regrouting tile 

Recaulking your windows 
For example, my dishwasher recently started leaking water. Before calling a contractor, I decided to watch the dishwasher while it was running to see if I could find the source of the leak. It turns out that the water was coming out of the door. 
After doing a little research on Google, I learned that it was most likely a broken seal causing the leak—one of the most common problems with dishwashers. I was able to order the part from the manufacturer for $17 and figure out how to install it by watching a YouTube video. 
I'm not a super handy person and I was able to repair my dishwasher without any help. If I can do it, you can do it too. Next time something breaks, don't call a contractor before trying to diagnose the problem on your own. 
After all, you don't bring your computer or phone to the repair shop every time there's an issue. You probably try to troubleshoot the problem yourself first in case it's a quick, easy fix. That's exactly what you should do with your home. 
You'll learn a lot by getting your hands dirty. The best way to learn is by doing!
Don't Get In Over Your Head 
With that being said, it's important not to get in over your head. You should always know your limits when it comes to home repairs, because doing some projects yourself can be dangerous. 
I never mess around with electrical, for example. The only things I'm willing to do are change lightbulbs, install new lighting fixtures, and switch out an outlet or two. I'm not an electrician and don't have the knowledge necessary to rewire things safely. 
I also don't touch any appliances that use propane or natural gas, like my furnace, oven, hot water heater, and dryer. If I tried to replace or repair those appliances myself, the gas line could start leaking if I did anything wrong. Leaks from gas lines can be deadly, so I always hire out for those repairs.  
Fixing a leaky faucet or unclogging a toilet is no big deal. But some repairs should be left to the experts, including structural work like knocking down walls, roofing problems, and electrical issues. If you get the sense that the problem is over your head after watching a few YouTube videos, it's best to call in the professionals. 
Apply a Handy Mindset to Everything in Your Life 
Being handy isn't just about home repairs. You can apply your new fix-it mindset to everything in your life. If a button pops off your favorite dress shirt, you can sew on another one yourself instead of going to a tailor. Before you upgrade your slow computer, see if you can replace some of the parts or delete files you no longer need to make it run faster. 
Performing regular maintenance on your belongings can also make them last longer. Applying waterproof spray or shoe polish to your nice leather boots can keep them looking good for years. Learning how to change the oil in your car will keep your engine running smoothly. 
Your home will also benefit from regular attention. If you maintain your appliances properly by cleaning out the filters and replacing old water lines, they'll break less often and you'll save a lot of money. 
It can be hard to find time to take care of the things you own. I struggled with this when I became a homeowner too. But I just pick one or two tasks to focus on each weekend to avoid getting overwhelmed.  
Do you like to repair things around your home or do you prefer to call a contractor to save time? Let me know in the comments section below! 
Read More
How Much Can You Earn by Being a Virtual Friend?
Why I Decided Against Van Life
5 Ways to Handle Finances When Dealing With Depression

Vicky Monroe is a freelance personal finance and lifestyle writer. When she's not busy writing about her favorite money saving hacks or tinkering with her budget spreadsheets, she likes to travel, garden, and cook healthy vegetarian meals.