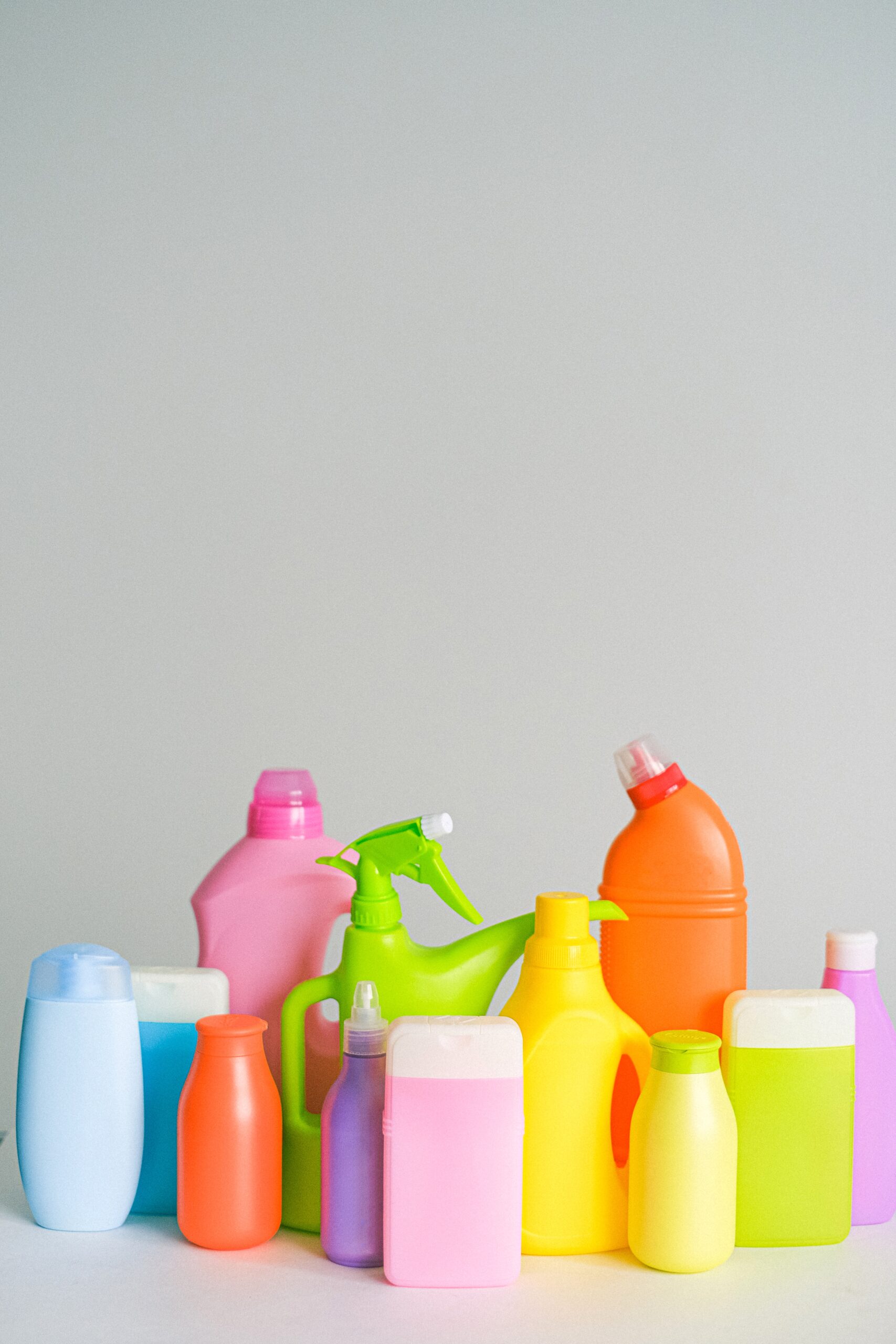 One of the biggest surprises when I moved out on my own for the first time was how much cleaning supplies and household goods like tissues cost. The average American household spends $40 to $50 per month on cleaning supplies and $60 per month on personal care products and services. 
But luckily you don't have to spend $1,300 per year just to keep your home clean and presentable. There are ways to lower your spending on toiletries and cleaning supplies. By shopping smart and getting a little creative, you can probably cut that bill in half. Here are all the ways I try to save money on household goods. 
Reduce Your Reliance on Single-Use Cleaning Products 
Think about how many household goods are single-use. Toilet paper, paper plates, tissues, trash bags, aluminum foil, and antibacterial wipes all get used once and tossed in the trash. 
Although you can reuse sandwich bags by washing them out with a little soap and water, most people throw them away after a single use too. Imagine how much money you could save if you reduce your reliance on these throw-away household goods and get items that last instead. 
For example, you can buy reusable food storage bags on Amazon instead of buying disposable Ziploc bags. You can swap out your paper towels for dishcloths that can be washed again and again. Instead of buying sponges week after week, purchase a few dish brushes, which last a lot longer because they're less prone to bacteria. 
I haven't gotten rid of all the single-use items in my home yet. I still have a stash of Ziploc bags, sponges, and paper towels. But I'm taking steps to phase out these items from my home. I recently purchased a bidet to cut down on toilet paper use and am looking into getting handkerchiefs to replace my Kleenex. Reducing my reliance on single-use items is better for the environment and my wallet, so I'm trying to take steps in that direction. 
Buy (Mostly) Store-Brand Cleaning Products and Toiletries
Store-brand cleaning products and toiletries are cheaper than name-brand options and usually work just as well. I buy off-brand glass cleaner, dishwasher pods, carpet cleaning liquid, dish soap, and laundry detergent, and they do the job. 
However, sometimes it's worth it to buy the name-brand item if it's more effective. You'll use less of it, which will make it last longer and save you money. If I need antibacterial wipes, I always buy the Clorox brand. They cut through grease and stains better than the off-brand and go a lot further, so they're worth a few extra dollars. 
Shop At the Dollar Store 
Dollar stores usually offer great deals on cleaning supplies. Dollar General has lots of digital coupons on their app for cleaning supplies, paper products, and toiletries. You can save even more if you stack digital coupons with their instant savings offers, such as $5 off when you spend $25.
There are lots of Instagram influencers who post about the deals they've scored at Dollar General and show you how to replicate them. My favorite account to follow is couponingwithnicole_. In addition to Dollar General toiletry deals, Nicole shares sales and coupons at Walgreens, Target, and CVS so you can maximize your savings.
Dollar Tree is another great place to shop for household goods. Some of the products they sell for $1.25 retail for much more at other stores. Glass cleaner and toilet bowl cleaner cost nearly double what Dollar Tree charges at the grocery stores in my area. If you like Scrub Daddy sponges, you can find good knockoffs at Dollar Tree for less than half the price. Their dishwasher pods are also the cheapest option I've ever found at just $0.10 each.
The only things I don't buy at Dollar Tree are paper products. Their toilet paper and paper towels are too thin, which causes me to use more and negates any savings.
Make Your Own Cleaning Supplies 
Although I don't make my own cleaning supplies, I've heard it's a great way to save money. Combining dish soap and water in a spray bottle can make an affordable multipurpose cleaner. You can also use diluted vinegar and a rag to wipe up lots of everyday messes without all the harsh chemicals found in store-bought cleaning solutions.
What are your favorite ways to save money on cleaning supplies and toiletries? Let me know in the comments section below!
Read More
I Missed My Chance to Refinance My Home
Why I Don't Have Life Insurance
How Frugality Has Improved My Life

Vicky Monroe is a freelance personal finance and lifestyle writer. When she's not busy writing about her favorite money saving hacks or tinkering with her budget spreadsheets, she likes to travel, garden, and cook healthy vegetarian meals.